Obama's Twitter 'photo of the day' is just plain weird, demands captioning
http://twitter.com/#!/BarackObama/status/287638250468802560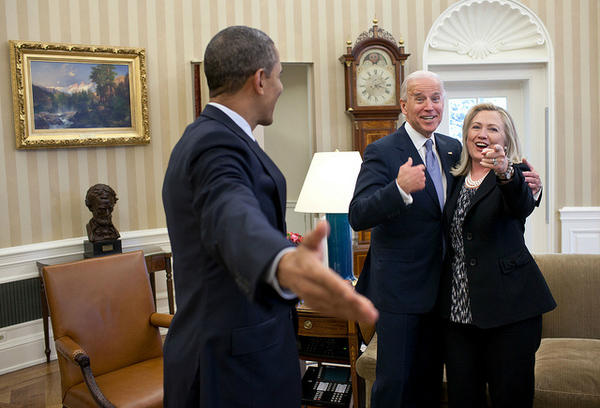 Whoever is behind the @BarackObama "photo of the day" has a canny sense of timing. While Secretary of State Hillary Clinton has been hard to pin down over the last few months, she does make a featured appearance in today's selected snap, which usually focuses (literally) on the narcissist in chief.
So who do we have in this happy crew? The president, the man who complimented him as "the first mainstream African-American who is articulate and bright and clean and a nice-looking guy," and the woman whose supporters started the birther movement to discredit him. And just who are they laughing at? You!
Feel free to continue the caption contest below, but here's a winner to start things off.
"You want ME to go testify on Benghazi? No, YOU go testify on Benghazi!" twitter.com/BarackObama/st…
— jdonels (@jdonels) January 5, 2013
Update:
Blogger Jeryl Bier notes that the "photo of the day" is actually from last January. But forward!
@twitchyteam Oddly, this photo is from January 30, 2012: flickr.com/photos/whiteho… Biden: "You ARE keeping me as VP, right?RIGHT?!"
— Jeryl Bier (@SpeakWithAuthor) January 6, 2013
White House photographer Pete Souza writes:
This is one of those rare instances where my presence indirectly became a part of this reaction from those pictured in the photograph. Secretary of State Hillary Clinton had just accidentally dropped all of her briefing papers onto the Oval Office rug and she, the President and Vice President all reacted in a way that indicated that surely I wouldn't get a photo of that to embarrass her
Editor's note: We have corrected the headline to indicate that the photo came from the @BarackObama campaign feed and not the official @WhiteHouse account. We apologize for the error.
Read more: http://twitchy.com/2013/01/05/white-houses-photo-of-the-day-is-just-plain-weird-demands-captioning/
---